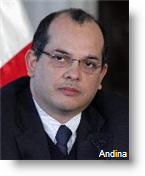 Peru's central government is to transfer extra resources to 985 districts in the Andean country to help compensate for lower tax income from the mining sector, according to the state news agency, Andina.
Finance Minister Luis Miguel Castilla said districts that have received less than 355,000 soles ($128,000) will receive the added resources.
"This measure will help to fully cover the lower income for 985 of the 1,557 local governments and four regional governments," Castilla said.
Mining companies pay a tax called the canon which is distributed to the central government, regional governments and municipal governments, based on where the mining operation is located.
Mining accounts for an important part of government tax revenue, which has decreased due to lower profits earned by mining companies, largely due to lower metal prices.
Castilla said the transfer to the local districts is to help prevent the postponement or even cancellation of investment projects.
"In the future, we'll have to create mechanisms that ensure the predictability of revenue and avoid that investment projects be affected by volatile variables," he said.