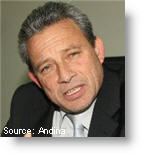 The president of Peru's anti-drug agency, known as Devida, said Monday that the agency will have a budget of 120 million soles (approximately $44 million) in 2012, aimed to fulfill the government's pledge to reduce coca cultivation.
Ricardo Soberon, to critics a controversial appointment to lead Devida by President Ollanta Humala, said that 70 million soles will be used for alternative development projects, state news agency Andina reported.
Soberon's appointment was criticized by analysts and political opponents of Humala for his close ties to coca leaf farmers and allegedly a pro-coca stance.
Shortly after his appointment, Peru temporarily halted eradication work in the Upper Huallaga Valley, one of the country's top coca growing areas. The decision was controversial, with some analysts saying it sent a sign to coca growers and drug traffickers that they are free to operate.
The suspension, however, only lasted a week and government officials said it was taken to assess the situation.
"The pause allowed us to restart with the necessary tools to achieve a sustainable reduction of cultivations in the country and to not create a balloon effect and the fragmentation of the cultivations to new areas," Soberon said.
Soberon said that since taking office, Devida has held talks with regional authorities and international organizations aimed at creating an efficient counter-drug trafficking policy.
"In these 23 days, we began talks with the Andean Community, the United States and the European Union to clarify what will be our long term policy. The point is to be effective and efficient," Soberon said.