Government assistance continues to arrive in the villages of Misk'a and Cusibamba, in the Cusco region, hit by a 5.1º earthquake on Sunday night.
Eight people were killed, including four children, four people were injured, and more than 575 people have suffered losses of their homes and possessions. The children killed by the crumbling adobe homes were a 3-month-old baby, a girl of 8, and two young teenagers.
Initial reports were that 70 homes were uninhabitable, 45 homes collapsed, and three schools completely destroyed. By Monday afternoon, however, Alfredo Murgueytio, head of the civil defense institute, Indeci, said 100 percent of the homes in Mis'ka are uninhabitable, and most buildings in Cusibamba have also suffered damage.  The water and sewage systems have also been damaged.
The damage caused by the medium-intensity quake is due in part to being so close to the epicenter of the tremor and also to the area's unstable soil and the fact that most of the wattle-and-daub buildings and houses are very old. The church in Mis'ka has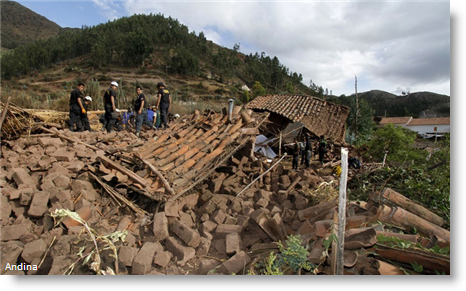 major structural cracks across all of its walls and will have to be torn down.
Tents have been set up on the football pitches of both villages, while Indeci officers from Cusco and Lima are studying the damage to decide if  repairs are feasible or if they should relocate the villages completely.
"In Misk'a there is not a single house left standing…. At the moment we could say that the best solution would be to relocate [the village] but that depends on the evaluations being made by the geologists," said Vladimiro Rozas, from the Risk Management Office in the Cusco regional government.