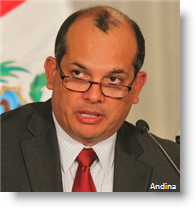 Finance Minister Luis Miguel Castilla defended the government's plans to raise public spending at a time of slower economic growth, waving away criticism from opposition politicians that it is a "populist" move.
"This is a vision of a government that will last five years and the policies that the President has established are policies that will transcend the government," Castilla said, according to daily Gestion. "When we talk about making a commitment to invest in the education and health sectors, that commitment is not populist."
During his July 28 state of the union address, President Ollanta Humala announced increases in public spending for programs aimed at reducing poverty, improving health care and education.
Humala said that the public sector budget would rise by 11 billion soles, or $3.96 billion, in 2015, with 6.5 billion soles going towards education and health care.
Despite Peru's strong economic growth, the country's public services have lagged. For example, Peru came in last place in a recent Organization for Economic Cooperation and Development survey that tested reading, math and science in schools.
Castilla said the government's plans to raise spending on education and healthcare are following recommendations made by credit rating agencies, the International Monetary Fund, and other economic analysts who say it is necessary to improve human capital in order to maintain longer-term economic growth.
"The vision isn't for the short term, but it is a vision for five years and a vision that transcends that," Castilla said.
Critics of the government have questioned the increased spending, saying it is a way to boost popularity amid a low approval rating and flagging economy.