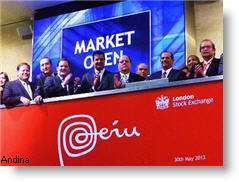 High-level government officials have been traveling abroad this week to prop up investment opportunities in Peru, at a time when the country is facing growing concerns about an economic slowdown.
While globetrotting is nothing new for Peru's cabinet officials, the current trips have taken on a new importance as Peru doubles down on its efforts to attract private sector investments in order to cushion the impact of slowing economy.
President Ollanta Humala announced last week that attracting private investments was a "national interest" as the economy was going through a "rough patch." Peru's gross domestic product expanded 4.8 percent in the first quarter, far lower than expected and the weakest quarterly rate in more than three years.
Finance Minister Luis Miguel Castilla and Central Bank Governor Julio Velarde were in the United Arab Emirates earlier this week and following a successful event in Frankfurt, are now in London to meet with investors as part of the InPeru road show.
Meanwhile, in Australia, Mines and Energy Minister Jorge Merino is participating in the Latin America Down Under mining conference, where he has been show-casing opportunities in the Andean country. Merino said that Peru is a "privileged place to explore."
"Peru has the best geological potential, permits that are more efficient… and we are more competitive in energy and labor costs," Merino said.
Meanwhile, Premier Juan Jimenez is also abroad, traveling in Spain, where he has been looking at ways to deepen ties with the European nation. "Peru is a competitive country in many sectors and with all the legal and economic guarantees for investors," he said. "We are a serious country that respects investors."   Spain's own poor economic situation is attracting a growing number of individual and corporate investors to Peru, particularly in real estate.  The most important real estate renovations in Lima's downtown area —stately old marble-floored bank buildings, republican and colonial buildings— are being led by Spaniards.