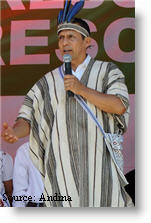 President Ollanta Humala, dressed in a south Amazon-style tunic or cushma and a feathered headdress, announced in the Cusco town of Quillabamba the plans to begin construction of the Southern Andean Gas Pipeline.
The pipeline, which will be more than 1,000 kilometers long, is to transport gas from the Camisea fields in the Amazonian jungle in southeastern Peru to the cities in the southern departments of Cusco, Puno and Arequipa in the Andean highlands and Moquegua and Tacna on the coast.
Humala, who took office last July, said during a televised ceremony that the pipeline will provide significant development to southern Peru.
"This is a massive, but real, project. A project that is going to change not only life in Cusco, but the country and particularly the south of the country," he said.
He said the pipeline will decrease energy costs and provide homes with inexpensive natural gas. "In this government we are going to have cheap gas and cheap energy not only for those that can pay, but for those that need energy and the gas to be less expensive," Humala said.
Humala said that gas from the pipeline will be used to create a petrochemical complex on the country's south coast. "Peru will be at the vanguard of the petrochemical industry," he said.
The pipeline will be operated by Kuntur Transportadora de Gas, owned by Odebrecht of Brazil and Conduit Capital Partners of New York.