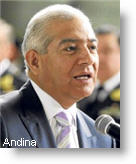 Interior Minister Wilfredo Pedraza said Monday that he takes "political responsibility" for operations last week to move a wholesale market located close to Lima's downtown that led to four deaths when riots broke out against the move.
"I assume the political responsibility," Pedraza said, according to daily El Comercio. "This has occurred within my sector."
"Perhaps the message for the National Police is that we can learn from these situations, we're going to review the images to learn and not to repeat the same errors," Pedraza added.
Following President Humala's statement that the riots were "shameful", Pedraza's acceptance of responsibility is a clear message of support to Mayor Susana Villaran, who is consistently attacked by groups who opposed her election at the end of 2010.
Earlier, Villarán herself accepted full responsibility for the decision to move the wholesale market area with the police force, and said that the move would be completed despite the protests, to reinstate order "where there has only been chaos." 
On Thursday, two people were killed when police were confronted by rioters trying to prevent officials from blocking the La Parada wholesalers market, located in the La Victoria district. Plans to move the market to the perimeters of the city have been underway for many years, and facilities were built at Santa Anita, on the eastbound Carretera Central. The previous municipal administration postponed part of the works and refrained from moving the market because of the potential backlash from some middlemen in the Parada market.
Police retreated after they were unable to control the rioters, who pelted officers with rocks and clubs. Two mounted police were knocked off their horses and one horse was badly injured and had to be put down later the same day. A further eight horses were injured.
On Saturday, police returned to La Parada and were successful in shutting down the market. However, two more people were killed when new confrontations erupted on the weekend. Business activities appeared to be increasing at the Santa Anita market on Monday as shopkeepers from La Parada move to the new facility.
By Monday, all market stallholders had moved to Santa Anita.  Mayor Susana Villaran said the La Parada area will be used to build a police center and also a youth center.
The riot last week was one of the more violent clashes with police seen in the Peruvian capital in many years, and it is believed that a large number of the protesters had been hired to create the violence. Mayor Villaran said there are clear signs that there a purse was offered to finance the riots.
Authorities have arrested several dozen rioters at La Parada and have said they will be punished with harsh prison sentences.