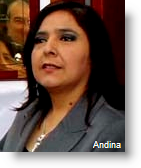 More than 5,000 people have been left homeless in Peru's southern region of Puno as a result of almost a week of heavy snowfall, daily La Republica reported.
The Minister of Women and Vulnerable Populations, Ana Jara, said that 5,220 people have been left without homes, while 12,310 people have been affected.  Jara said that 152 homes have been completely destroyed, while 738 homes are uninhabitable, and 2,085 homes have been affected.
Jara also  said that doctors from the Health Ministry are traveling around the areas of Puno most affected. In the meantime, the Civil Defense Institute, INDECI, has sent 16 tons of materials and food with their teams to the outlying area most affected.
The freezing temperatures and snow storms are some of the worst that have hit southern Peru's highlands in a decade. Over 250,000 alpacas have died from the cold snap, while highway travel has also been blocked in some parts.
In Apurimac, further north in the southern Andean region, the government has also begun to provide assistance against the snowfalls and low temperatures.