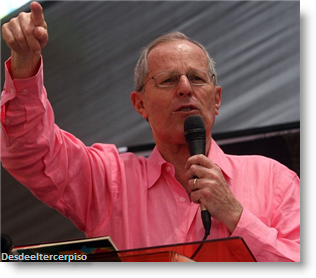 Former prime minister and finance minister Pedro Pablo Kuczynski launched his presidential campaign for next year's general elections, to be held in April 2016.
Kuczynski, a well-known economist in Peru, will run for office for Peru's top post for a second time, aiming to brand himself as the "progressive" candidate in a field that is expected to be full of market-friendly, right-wing politicians.
"We are going to do a tour of the poor provinces of Peru, a caravan to speak with the people," Kuczynski said this week.
Kuczynski, 77 years old, has a long, well-regarded history in Peru's government and private sector. He served as Mines and Energy Minister in the 1980s administration of Fernando Belaunde Terry, and later as the Economy minister and later Premier during the government of Alejandro Toledo, from 2001 to 2006.
Between his political stint in the 1980s and his return to politics in this past decade, Kuczynski was chairman of First Boston International and managing director of Credit Suisse First Boston Corporation (1982-92), and later president and founder of The Latin American Enterprise Fund (1992-2001). He is a partner in The Rohatyn Group, on investment in emerging markets.
Kuczynski ran for office in 2011, finishing third place behind President Ollanta Humala and Keiko Fujimori and beating his former boss, Toledo, who also ran again for the presidency.
Kuczynski ran a strong campaign that gained steam in the final weeks of the election with growing support from young, educated professionals in Lima. But he remained relatively unknown outside of the Peruvian capital, unlike Humala and Fujimori.   Although the left of center see him as an unwelcome spokesperson for the mining industry and private investment, he does not carry the baggage of alleged corruption or political errors that surround the other presidential hopefuls.
Kuczynski seeks to use that experience to springboard himself into the presidential palace in 2016, when Humala is constitutionally barred from seeking reelection.
To help him, he has brought on Luis Favre, a Brazilian campaign strategist who helped Humala reach the presidency in 2011 and who has also worked with former Lima Mayor, Susana Villaran.
Kuczynski will likely face Fujimori, Toledo and former president Alan Garcia in the election.