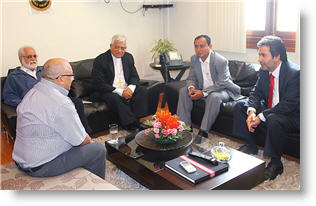 A delegation of high-level government officials restarted talks on Tuesday with opponents of the $5.0 billion Minas Conga copper and gold project located in northern Peru.
The delegation is being led by Premier Juan Jimenez and includes Environment Minister Manuel Pulgar Vidal. They are meeting with the president of Peru's Cajamarca region, Gregorio Santos, and the mediators —chosen by each side of the debate— are Monsignor Miguel Cabrejos of Trujillo and Father Gaston Garatea.
Santos has been a staunch foe of the project over concerns about its impact on the water supply in Cajamarca. Along with local activists, Santos led large protests last year that resulted in numerous deaths when opponents clashed with police.
The protests grabbed international attention as the project is co-owned by U.S.-based Newmont and was seen as a bellwether for the government's ability to resolve community opposition to mining in the Andean country.
While the meeting on Tuesday may be a step in the right direction to resolving the dispute over Minas Conga, a quick solution is unlikely, Environment Minister Pulgar Vidal said.
"We recognize that everything won't be solved and closed in just one meeting," daily El Comercio reported Pulgar Vidal as saying.
He said that future meetings will likely be scheduled. "We have to have dialogue without conditions," he said.