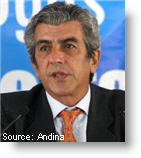 The Peruvian government's plans to raise some 3 billion soles (approximately $1.1 billion) per year from a new mining tax will be an important push to closing social gaps in the Andean country, the head of a government-led organization dedicated to reducing poverty said on Friday.
"We put together an estimate about how much it would cost Peru to close the main gaps and what we estimate is 3.2 billion soles," said Federico Arnillas, the president of the Mesa de Concertacion para la Lucha Contra la Pobreza. "If we use all of the resources, we could close the gap in monetary terms."
"It is now on the public agenda and what we have to do in the upcoming years is orient the public expenditures to close the gap that we have," state news agency Andina reported Arnillas as saying.
In total, Peru's government is looking to bring in an additional 15 billion soles during President Ollanta Humala's five-year term if metal prices maintain around their current prices, Cabinet chief Salomon Lerner Ghitis said on Thursday.
The initiative is one of Humala's main priorities.
The details of the new tax are still unclear, although they are expected to be announced shortly with the tax implemented by the end of this year, analysts say.
The government and mining industry leaders came to an agreement on the tax following negotiations, calculating the amount on the basis of current minerals prices and the profits of the first semester this year.   The amount every year can vary substantially, because of minerals prices, operational costs and production levels.
Humala's vice president, Marisol Espinoza, said in a release that the funds will principally be used for education and health care projects.
"The announcement by the president of the cabinet, Salomon Lerner, in Congress brings together what was offered in the presidential campaign and what is collected will be used for social programs. Basically, in two of President Ollanta Humala's concerns, which are the issues of education and health," Espinoza said.