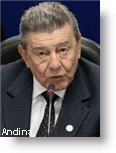 Peruvian Foreign Relations Minister Rafael Roncagliolo inaugurated a meeting of top government officials from the Union of South American Nations on Thursday, saying that now is "South America's time" on the global stage.
Roncagliolo said the region is well-positioned to confront risks from a possible global economic crisis, while Europe struggles, growth remains weak in the United States and is slowing down in China.
"The context of the crisis allows us to speak, two centuries later, of South America's time," Roncagliolo said, according to state news agency Andina. "We are united and with a clear vision, determined about the road we've taken and our common destiny," he added.
The meeting of the South American nations, known as Unasur, began Thursday and continues througout Friday. Foreign relations ministers from the nations are meeting ahead of discussions between South American presidents on Friday.
During his speech, Roncagliolo also proposed allowing a free transit of people in South America and creating a common South American visa for residents.
"I'm enthusiastic about the possibility of a common South American visa, similar to what they have in the European Union," he said.