Peruvian police have seized almost $4 million in counterfeit money, which was to be sent abroad, according to RPP radio.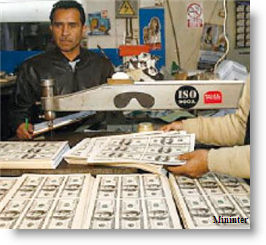 Police Col. Sergio Portocarrero said that officials had been following a gang involved in creating counterfeit dollars during the past four months. The phony money, worth a total of $3.7 million, was found in a hotel in Lima's Comas district.
The owner of the hotel in Comas was arrested at Lima's international airport as he was trying to flee Peru.
Police said the gang uses the same methods to send the counterfeit dollar bills to the U.S. as those used by drug traffickers.
Counterfeit money is common in Peru, where the U.S. dollar is widely used alongside the Peruvian sol currency.
This raid in Comas is at least the third in Lima this year.  A much larger cache was found in April this year, when police  raided a printshop in San Martin de Porres district, also in north Lima, to find $60 million worth of crisp, new counterfeit dollars, euros and soles.
According to the U.S. government, Peru is the world's top producer of counterfeit money. Over the past 10 years, some $105 million counterfeit notes have entered the U.S. from Peru.   Counterfeit producers in Peru have the printing "down to a fine art," according to U.S. intelligence experts.
The main destination for counterfeit money is the United States, but foreign currency restrictions in Argentina, Venezuela and Ecuador also increase possibilities for counterfeit smugglers to succeed.