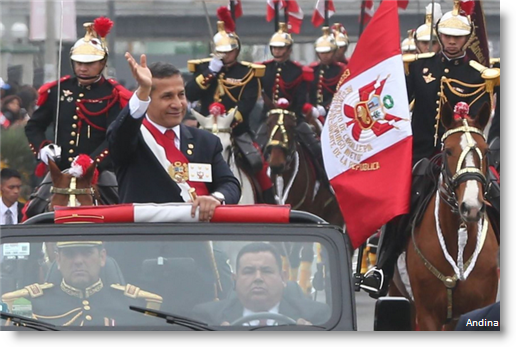 President Ollanta Humala closed Independence Day events today by attending a Thanksgiving service organized by the Evangelical Christian Churches of Peru, accompanied by First Lady Nadine Heredia and his cabinet as well as diplomats and local authorities. The service has been held every year since 2000.
Yesterday, more than 12,000 military and police marched in the Independence Day parade along Av. Brasil, including battalions from Argentina, Bolivia, Ecuador and Mexico.
In a break from tradition, President Ollanta Humala first addressed the public before opening the parade.
"Although we gained independence through liberty, the new independence we need to consolidate is the fight against inequality, inequity, to resolve and reduce the inequality gap between the few who have much and the many who have little. Among the few and the many, we are all Peruvian, which is why this government is one of social inclusion," Ollanta said.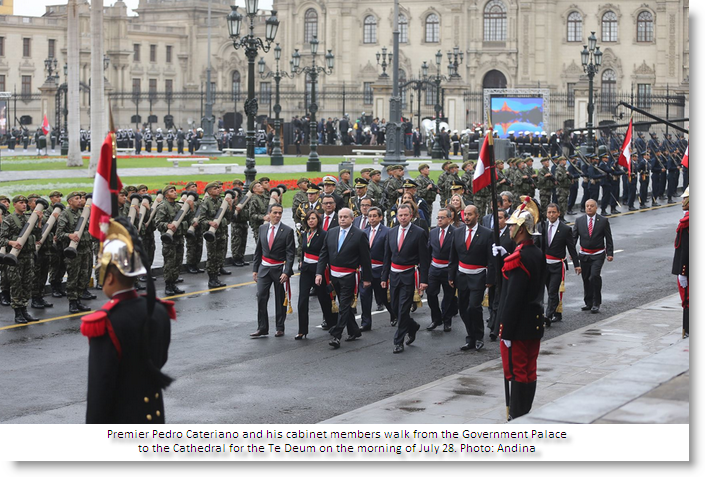 "This military parade is a tribute to the soldiers, police, nurses, native communities, young people, to those who represent the historical Peru, deepest Peru, the [Peru] of all the races that Jose Maria Arguedas talked about."
The three-hour parade followed the main ceremonies on July 28, when a Te Deum was held at the cathedral led by Cardinal Luis Cipriani, who is also Archbishop of Lima. The President then walked to the Congress to present his annual address.
This was Ollanta's final annual speech to Congress, as he begins his fifth and last year in the presidency.
The President emphasized his government's achievements in reducing poverty, improved teaching standards, the day-care Cuna Mas centers, which attend to more than 315,000 children, and international ISO 9001 accreditation for both the Beca 18 program providing higher education scholarships for 45,000 so far and social programs such as Pension 65.
The school lunch program Qali Warma now benefits 3.1 million school children, working with local producers rather than centralized suppliers as in previous governments, which not only prevents chains of corruption and the risk of expired foodstuffs but also boosts the local economy.
The comprehensive health system, SIS, has incorporated more than 350,000 newborn babies into the health coverage.  Poverty rates have also continued to drop.
"Today, Peru is a leader in social policies in Latin America.  My government will leave the country a positive legacy," Humala said.
Although Moody's investment service qualified his address as positive for investors, most political analysts were critical —too many statistics and not enough self-criticism— or disappointed, hoping for more specific decisions in matters such as citizen security, minimum wage and corruption.
"An  hour of cheap talk," said ex-President Alan Garcia on Twitter.
But at the beginning of a lame duck year, Humala's government is not much different from that of his most recent predecessors — both Alan Garcia and Alejandro Toledo were disappointing, and in Alberto Fujimori's case, his government had run out of ideas.
"This, like the previous ones, is a government of lost opportunities. All of them have wasted the longest export boom in Peruvian history to build a better country," said sociologist and political analyst Sinesio Lopez, in his column in La República.