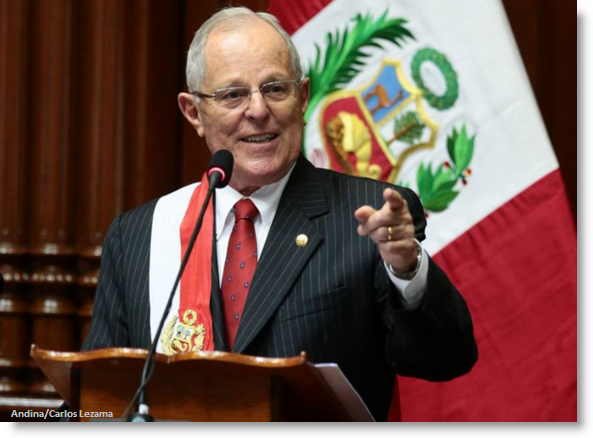 Presidential inauguration activities came to a peak on July 28 when Pedro Pablo Kuczynski was sworn in as Constitutional President of Peru for the period 2016-2021, and as he outlined his government plan in an address to Congress.
Adressing an audience that included members of the Congress, the King Emeritus Juan Carlos of Spain as well as presidents of neighboring countries and diplomats, Kuczynski called for a social revolution in Peru to meet the nation's bicentennial in 2021 as a modern nation.
Kuczynski garnered no applause from congress members of Keiko Fujimori's party, Fuerza Popular, even for his entrance and swearing in.  At least he didn't face the harangue that President Ollanta Humala did during his inaugural address in 2011, when Humala had to raise his voice above the constant shouting of Fujimori congresswoman Martha Chavez.
Emphasizing the goal to reach Peru's bicentennial in 2021 as a modern nation of equal opportunities and access for 32 million citizens, Kuczynski's summarized his program in a six-point wish list — potable water and sewage "24 hours a day" to all Peruvians by 2021; quality public education to open up the world for millions of young people; health services to meet the needs of the sick; formalize the country economy as much as possible; build the infrastructure for development that is urgently needed; and free the country of corruption and crime.
The government plan, available here, places a special emphasis on health and education, which Kuczynski stressed are the essential underpinnings for development.
His other main focus is corruption, which is deeply pervasive in government and particularly in the police and judicial systems.  The Ministries of Justice and Interior will be spearheading this effort, but public awareness of success in these aspects will depend a great deal on personal experience and how the press covers the news.