By Annie Thériault —–

The inspiration for a life-changing project came at a red light, four years ago.
When the Municipal Ballet's prima ballerina, Vania Masías, drove to a stop at the traffic light- just one more car among the thousands crawling through Lima's overcrowded streets – a group of leaping, jumping and break-dancing street youth caught her attention.
If these young acrobats are often ignored by drivers or passersby – and lucky to rack in a handful of change after hours on the streets – their two-minute performance truly impressed Peru's top dancer.
"It was so extraordinary," Masías told the Peruvian Times. "There is so much talent here, right in front of us. But, we just don't see it. I just had to do something to change that."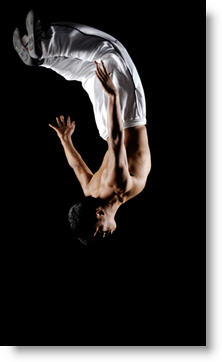 And so Masías, who was due back in London for a lead performance in the English National Ballet's production of the Nutcracker Suite, decided to do just that.
Putting her career on hold, Masías found a top-notch choreographer and scheduled a casting in Ventanilla, the impoverished shantytown on the outskirts of north Lima. Of the more than 70 children who showed up, Masías selected 40 for a fully-paid, month-long dance scholarship.
"But none of these children believed me," Masías said. "They didn't think I'd come back, or that I'd really keep my word about the dance training. I think Peruvians are skeptical now because of all the unfulfilled promises. They're used to being deceived."
Since Masías' first dance workshop in 2005, her non-governmental organization "Angeles D-1" has grown and prospered.
At D1-dance, Masías' professional dance studio in Chorrillos, more fortunate students – able to pay for the classes they take – can learn the steps to anything from street dance to funk, free style, salsa and flamenco.
And, because the studio is a success, the tuition paid by the enrolled students allows Masías to fully finance Angeles D-1, which makes it possible for dozens of impoverished children and teens -chosen for their talent and promising human potential – to benefit from free dance classes, theatre workshops and art therapy.
"It's like Robin Hood," said Masías. "The rich are paying for the poor."
Every year, Masías' dancers put on "Mezcla," or "Mix," a production that blends theater, multimedia and dance. The show, which tells the story of a mixed-race couple, fuses national and international rhythms such as jazz, ballet, flamenco and Peruvian tap-dancing or zapateo, as well as more contemporary beats, including hip hop and break dance.
"It's been life-changing," said Masías. "I remember when I met the first 10 children. They had yellowish hair and I thought it was because they were surfers and that the sun had changed their hair color. But, no, it was malnutrition. They too, have taught me so much."
In Peru, 45 percent of the country's population lives in conditions of poverty, 60 percent of children between the ages of 0 and 5 years are poor, and 58 percent of children between the ages of 6 and 11 years are poor. And, it has the third highest child malnutrition rate in Latin America.
According to UNICEF, chronic malnutrition among children under the age of five has remained relatively constant, at a rate of approximately 25 percent for the past 10 years.
In Lima, as well as in other large cities such as Trujillo and Cuzco, hundreds of children end up on the streets as an escape from extreme poverty, abusive home situations, or as a result of losing a parent or other family members. On the streets, these children are exposed to drugs as well as sexual assault and exploitation.
But Masías' work is making a difference.
One of her former students is now a professional dancer in Finland, seven are employed in her professional dance studio and dozens more have found employment in the entertainment industry or as dance instructors.
"Dance is a passion," said Masías. "And it is proof that dreams can come true, for all of us."