By Paul Goulder
✐ Special to the Peruvian Times ☄
Now twelve years into Peru's fourth great bonanza period and with plentiful finance to hand, is enough being done to prepare a truly balanced, inclusive and self-sustaining economy for the future? A keynote conference in November by an international specialist analyzed the past bonanzas and posed the right questions.
A flurry of articles in the media have also focused on this debate and call for stiff New Year's resolutions. Projections for the next period are still good, but where are the essential reforms that will turn the provincial cities and Lima's "young towns" into the Silicon Valleys and Taipei Tigers of tomorrow, and Peru's schools and universities into the best in the world?
Analyzing past errors during the three historical bonanzas can help get policies right for the fourth and current period of bonanza.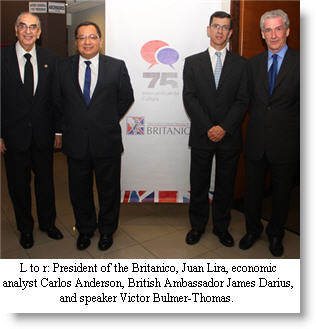 Two centuries of extractive bonanzas in Peru, will it be different this time?
The talk was given by Victor Bulmer-Thomas*, with comments by economic analyst Carlos Anderson, and in general dealt with the lessons we can learn from Peru's history of 40-year economic bonanzas[i] – four, including the present one.  The focus[ii] was on the history of extraction activities in Peru, the economic bonanza they provide, and the outlook for the future in this sector.
The British role after 1821
Given that the lecture was being held in the context of the 75th anniversary of the Peruvian British Cultural Association, better known as the Britanico (PT 16 June 2012), the first part of the lecture was devoted to an analysis of Britain's role during its period of financial and commercial hegemony in Peru (and implicitly the relationship with the first bonanza — that of guano). This part, dealing, of course, principally with the 19th century, recounted how Britain[iii], or rather British firms quickly became the predominant investors and traders in and with Peru, because "only Britain had the Balance of Payments surplus" necessary for the task.
The four bonanzas in Peruvian history
The second part surveyed the pattern of the bonanzas[iv] – which Peru has enjoyed or, in the view of some, just frittered away (or had "sequestered" by others, as dependency theory might have it —and as actually happened in the case of the Tarapacá nitrate deposits, in the War of the Pacific 1879-1883).
"Those who do not understand (their) history are condemned to repeat its mistakes" quoted Bulmer-Thomas, pointing out that the four bonanzas have covered a large part —130 of 190 years— of Peruvian economic history since independence was declared in 1821.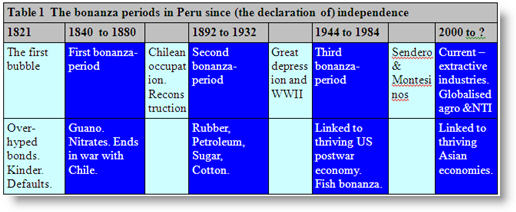 While there might be some divergence between economic historians about the tops and tails of these forty-year highs, the periodization is approximately as set out in Table 1. There is less agreement as to whether the Peruvian people in general saw much of the benefit. Notably Jorge Basadre, Peru's much quoted historian, termed the first bonanza "La prosperidad falaz", or the false prosperity. In fact, a three volume section of his 17 volume History of the Peruvian Republic (1960 edition) bore that title.
The risks that may threaten bonanzas
Sooner or later bonanzas come to an end. Some of the factors include:
Substitutability – Malayan rubber substitutes Peruvian by 1910.
Protectionism – In the 1930's customer countries protected their markets.
Over-exploitation of source – Either resources run out or become more expensive to extract.
Market saturation – too much offered to the world market: Bolivian tin.
Collapse in world demand – coinciding with cyclical downturns
Scarcity of labor – possibly the current Peruvian situation
And also in the present case
Internal political fights and social and environmental opposition can self-destruct a bonanza unless the government has "fair" policies.
Lotteries should carry a health warning. If your economic health is purely dependent on the international price for your country's resources, will there be any perceived link between your work input and your prosperity?
Britain, US, China and the booms
Britain had been the principal commercial partner of the young republic during the first boom period from 1840 to 1880 and for part of the second from 1892 to 1932. It had broadly financed the march to independence and thereafter become the principal 19th century investor.  There followed a close economic relationship with the United States, which only recently is being challenged by China. In all these, the international partner was always more important to Peru than vice versa. In fact, as we see today, getting a fair share of the "bonanza" when dealing with strong global partners (UK, US, Japan, Germany[v] have all had their turn at the helm – and now China) is no easy matter.
Will the current bonanza continue?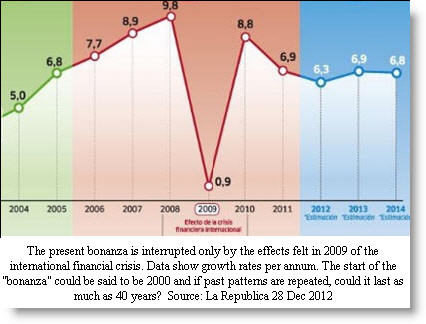 Bulmer-Thomas was reluctant to be drawn over-much on the question of the future of the contemporary boom. If patterns repeat themselves then Peruvians can expect it to top out between 2020 and 2030 and be over by 2040. The boom is largely a product of the sky-rocketing prices paid for Peru's raw materials, while the quantity exported has remained more or less constant. When the prices come down the boom will fade, repeating the same cycle as before. Unless the country diversifies its industry and ceases to rely exclusively on raw materials.
Bulmer-Thomas also noted the behavior of exports in services where tourism and migrant-remittances are now important elements, and in an interview with La Republica he emphasized, as a means to that diversification, the need for education, training, and a policy of diversification and redistribution.  He also stressed the need to invest the new resources in resolving social conflicts —which must be resolved if the bonanza is not to be cut short. The people need to see real benefits through infrastructure, and Peru should look to other countries that have been successful in solving these issues, he said.
Peru is also not short of commentators who reinforce these views. Even in the 19th century, Lima's intellectual class was saying much the same thing – though not exactly. For many, the block seems to be a form of ideological "chip" that is preprogrammed to say that the global market alone will do the trick.  Breaking out of the bonanza orbit is one thing. Having enough (appropriately) skilled labor to exploit the boom – when only one third of young people are educated beyond a fairly basic secondary level— is another, as an interview on IdeeleRadio with Julio Gamero, former Vice-Minister for Job Promotion, emphasized. In fact, the skilled-labor shortage factor is already making itself felt in many sectors.  
Is it important to break free of dependence on the extractive industries?
The arguments for a move away from the mineral and other extractive industries do not depend just on the need to ensure more permanent, longer-term growth. The present economy is inherently unstable because of this feeling that you can remove Lima from the map and the exportable output of the economy would be largely unaltered. That is, Lima needs to find a role as a producer. Can it be competitive enough to challenge East Asia? Could it break into the high-end international services market (software output etc)?
Will it be different this time?
The more permanent changes and, therefore, the more reliable changes in the long run and that have already been taking place in the Peruvian economy include more women professionals in the economy; more people from the Peruvian heartlands (Andinos and others) in professional and executive jobs; a crackdown on corruption and immunity (as of the Paniagua and Toledo administrations onwards); a welcoming attitude to information technology; some dividend from the expansion of universities authorized by Conafu; improved public infrastructure; a breakthrough into international markets; low import taxes; more Peruvians abroad (returning re-skilled/sending remittances); more irrigated land; a "diversification of spiritual/religious life" (secularization, growth of new religions); some inroads into the "low trust" society; a renaissance of cultural life; some intercultural education; environmentalism; some success in titling (of invaded land, etc); very dynamic marginal informal sectors with a more robust process of formalization; balancing the national budget (= low inflation); some progress with "continuity" – public servants who finish or are allowed to finish the job; and the list – not written in any particular order – continues. (See PT 4 June 2011)
Nevertheless, in spite of this impressive list, there is still concern that unless the Government introduces more specific policies to encourage non-extractive sectors and to redistribute via public infrastructure projects (quality education, piped water and electricity for all, rapid transit to suburbs, high-speed rail Quito–Lima–Santiago, etc), then it will be back to square one when the bonanza fades.
_______________________________
UPCOMING CONFERENCE IN LONDON
The issue of the extractive industries and the economy is naturally a global and a regional issue, and on March 4 this year in London, a day-long conference promoted by the Peru Support Group is being held on  Alternative Strategies for Mining-Based Economies  at the Institute for the Study of the Americas, in Senate House.  It's promotional material reads as follows:
Mining activity has the potential to bring significant developmental benefits to countries in the Andes. However, as resources are exhausted, governments are turning to exploration in less desirable areas and proposing projects that may cause serious environmental damage. This has increasingly resulted in conflict with local communities and raises questions about how to manage and regulate the extractive industries. There are also broader debates about the risks and dangers associated with depending on a handful of commodities to sustain national economies, particularly when these are non-renewable.
Even while governments pursue "extractivist" policies, innovative alternative development proposals are emerging from civil society and from governments themselves. Both the Bolivian and Ecuadorian governments have included the language and principles of vivir bien in development plans and laws. Others prioritize in-country processing of raw materials or a move away from export-based, growth-centered strategies. Another approach is simply to better regulate large-scale mining investment so as to maximize its spread effects and contribution to local development.
This day-long conference will feature debate involving an international panel of speakers, including Anthony Bebbington Ph.D, Higgins professor of environment and society, Clark University and research associate, Centro Peruano de Estudios Sociales; Jose Pimentel Castillo, Vice-president of COMIBOL, the Bolivian state mining company, and former mining minister of Bolivia; Carlos Monge Ph.D. Latin America regional coordinator of Revenue Watch Institute and senior researcher at Peru's Centre for the Study and Promotion of Development; Joan Martinez-Alier Ph.D,  Professor of economics and economic history, Universitat Autonoma de Barcelona; Carlos Larrea Ph.D, Professor of development, Universidad Central del Ecuador; Mirtha Vasquez, lawyer and director of Peruvian environmental NGO GRUFIDES;  and Rosemary Thorp CBE, Emeritus fellow, St Antony's College, Oxford, and former director of the university's Latin American Centre.
______________________________________________________________
Endnotes