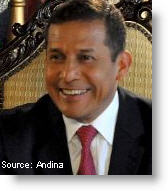 President Ollanta Humala has a 54.5 percent approval rating after six months in office, according to pollster CPI.
State news agency Andina says Humala's approval rating is higher than his predecessors after their first six months in office. Ex-President Alan Garcia (2006-2011) had an approval rating of 45.3 percent after his first six months, while Alejandro Toledo (2001-2006) had a popularity of 30.6 percent, Andina said.
Twenty-eight percent of respondents say that Humala's most important achievement during the first six months in office is his social programs, such as the Pension 65 social program, while 13.4 percent say it is the increase in the minimum wage and 12.6 percent say the economic stability that he has maintained.
Humala took office on July 28 for a five year term.
Peru's first lady, Nadine Heredia, has an approval rating of 59.9 percent, according to the poll.
The poll, which was taken from January 20 to January 24, also found that 61.3 percent disapproved of Congress, while 65.8 percent disapproved of the judicial branch.
The poll of 1,450 people had a margin of error of 2.6 percentage points.