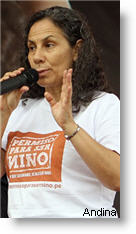 Education Minister Patricia Salas on Wednesday came out against a common practice in Peru's private school system: stressful entry exams for children as young as four or five.
Many private schools in Peru, including the top international schools and smaller Catholic schools, require prospective students to take entrance exams in order to be accepted into their kindergarten level.  
These exams usually involve a psychologist, who oversees various types of tests and interviews, which can be a multiple-day process for both the child and the parents. The process can be stressful for children because the parents are anxious — there are often waiting lists for spaces and the schools see the tests as the only fair way to ensure that the children will be able to keep apace with their curricula. 
But "at that age the children are subjected to a stress that is not healthy," Salas said. "And this stress is seen not only at the time of the exam but prior to it, because the parents are also stressed in preparing them and at times they make them take preparation courses."
"This isn't good for the development of the child," the Education minister said in comments to state news agency Andina. "If we really love [our children] we should think about what is best for them," she added.