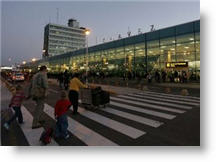 The expansion of Jorge Chavez International Airport is a national necessity as Peru's economic growth will boost transit, according to President Ollanta Humala.
On Tuesday, Humala visited the Jorge Chavez airport, located west of the city near the port of Callao, and flew over the area where the airport authorities plan to build a second runway, state news agency Andina reported.
Jorge Chavez is Peru's main airport, and still the only international access to reach key destinations such as Cusco, Arequipa and Trujillo.
"The expansion of the airport is a national necessity today, given the economic growth and Peru's geographic position, which has made it an international hub," Humala said.
Humala said the expansion could allow the airport to attend to some 20 million travelers every year.
A previous expansion allowed the airport to increase traffic from 4 million passengers per year to 11 million in 2011, Humala said. He said he expects the Jorge Chavez airport to serve some 13 million travelers this year.
"And the expansion of the airport will allow us to reach the 20 million passenger mark, without counting the passengers in transit," Humala said.
The Jorge Chavez airport began operations in 1965, replacing the Limatambo airport in what is now the business sector of San Isidro —the Ministry of Interior building is the previous airport terminal.  In the government's privatization program in 2001, the concession for operating the airport was granted to the US-German consortium Lima Airport Partners, of which the majority partner is Frankfurt Airport Services, Fraport AG. 
The new expansion will require buying off the few remaining acres of private farmland in the area and other private properties.