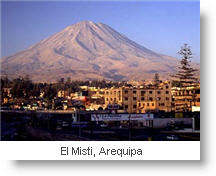 The Arequipa office of the Peruvian geology, mining and metallurgy agency Ingemmet is setting up a system around the crater of the El Misti volcano to warn of any eruptions, state news agency Andina reported.
The system includes the installation of one-meter high concrete blocks that will register the distortion of the crater, which can indicate an impending volcanic eruption.
Ingemmet began installing the 10 blocks in 2009 and has spent over 100,000 soles (approximately $35,500). The agency has also received the support from the municipality of Arequipa. El Misti is located some 20 kilometres from the city center of Arequipa, Peru's second largest city with a population of about 1 million people.
The volcano's proximity to Arequipa was the main reason to install the system, Jersy Mariño said, adding that El Misti is in a "calm phase."
"The evaluation conducted up until now at El Misti shows that this volcano has been in a calm phase for many years, but that's not a reason to stop monitoring it," Mariño said.