Making more waves in already rough legal waters, Peru announced that it too – in addition to Spain and Tampa-based Odyssey Marine Exploration Co. – is to fight it out in U.S. federal court over the rights to 17 tons of gold and silver coins recovered from a shipwreck that sank in 1804.
On Tuesday, Peru issued a public decree authorizing its ambassador to the U.S. to hire attorneys to claim its rights over the sunken treasure.
The galleon, code-named the "Black Swan" by Odyssey Marine Exploration, was discovered by the company off the coast of Portugal in May 2007. At the time, the treasure hunting and deep-sea exploration firm announced the historic deep-ocean treasure recovery of over 500,000 silver and gold coins, weighing approximately 17 tons.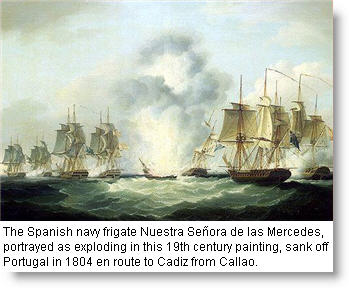 Immediately, controversy over the ship's true identity – and what may become the biggest underwater find ever – spurred speculation.
Spain claims the wreck is the Nuestra Señora de las Mercedes y la Animas, a Spanish navy frigate that was sunk by an English warship in the early 19th century, at the onset of what was to become the Battle of Cape Saint Mary. So, Spain argues, Odyssey not only stripped Spain of its cultural patrimony, but has violated a gravesite, given the fact that dozens of sailors were killed when the ship was hit.
But Odyssey, who claims it has pioneered a new branch of archaeology called "commercial marine archaeology," has steadfastedly maintained ownership of its find, and argues that as a salvager, it has the right to a significant percentage of the reclaimed booty regardless of the ship's origins.
"Even if the site discovered is eventually proven to be associated with the Nuestra Señora de las Mercedes, which is unclear from the available evidence, the ship should not be accorded sovereign immunity," Odyssey writes on its website. "Furthermore, the vast majority of the cargo aboard was commercial cargo that was privately owned and was recovered without disturbing any ship remains."
And now, Peru is jumping into the legal battle for what it claims is its cultural patrimony – not Spain's or Odyssey's.
According to Peru, the galleon sailed for Cádiz from its largest port, Callao, in April 1804, and the coins it was carrying were minted in Lima in 1803 and crafted with Peruvian silver from the mines of Potosí.
In short, Peru claims that it has right to the trove of silver treasure, because it was looted in the first place.
The legal battle may prove tedious, as Peru was a Spanish colony when the ship sank and had been for more than 200 years. Also, it has not ratified the 2001 UNESCO Convention on the Protection of Underwater Cultural heritage. Only 20 countries, including Spain, have ratified the convention, and have agreed to prohibit any commercial exploitation of underwater wrecks.