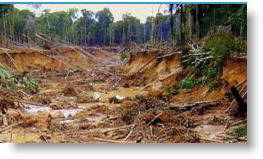 Organizations in Peru's jungle region of Madre de Dios have called on the central government to provide more support to help combat human trafficking, state news agency Andina reported.
Some 70 civil servants from the Public Ministry, Judiciary, National Police and Women's Emergency Shelters in Madre de Dios, as well as civil society organizations and the media, are asking for urgent measures from President Ollanta Humala's government in Lima.
Madre de Dios has become one of the largest centers of sexual and labor exploitation in Peru, due to the spread of illegal gold mining in the region.
"The Madre de Dios region is going through a grave situation of sexual and labor exploitation," said Alberto Arenas, the director of the CHS Alternativo organization.  Arenas added that decision-makers in the justice system and business and professional guilds need to be provided with training, "to know more about the reality in which thousands of victims live in the mining corridor" because of impunity and the lack of legal steps and convictions. 
Illegal gold mining has exploded in Madre de Dios, causing widespread social problems and serious environmental damage. While often thought to be small-scale informal miners, and thousands of these have caused immeasurable damage, much of the illegal mining done in the region is in fact carried out with large, imported machinery requiring technical expertise and millions of dollars in investment.
The huge profits from illegal gold mining has fueled corruption and attracted local and international organized crime groups, including for protection.