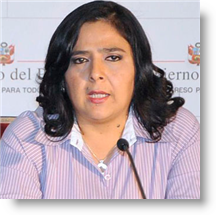 President Ollanta Humala has 72 hours to name a new cabinet chief, and perhaps some of his ministers, following a majority vote in Congress Monday night to censure Premier Ana Jara.
The vote of no confidence — 72 in favor, 42 against and two abstentions— has been at the top of the opposition's agenda for several weeks, in the wake of reports that the National Intelligence Office (DINI) has been gathering information on  politicians, journalists, activists and business leaders, including  working through inter-institutional agreements with other institutions such as Sunarp, the real estate and business registry.  Although an agreement with Sunarp was signed in 2010, during Alan Garcia's administration, this information is publicly available.
During her defense to Congress, Ana Jara said she has requested that the Attorney General's Office initiate investigations into whether the DINI actions were criminal, given that there is no evidence that the information has been used to blackmail or coerce anyone.
"No data or request has been found to lift banking secrecy of political persons, nor to intercept telephones, which can be made with a court order," said congressman Cesar Yrupalla, a member of the ruling party and on the Intelligence Commission in Congress.
Ana Jara has been generally well-liked and  was appointed premier to soften the edges between the Humala administration and the opposition, principally the Fujimoristas led by Keiko Fujimori and the Apristas and Alan Garcia . Much of the success of inter-party dialogue to reach consensus on certain national issues can be credited to her.
"I don't believe that I deserve to be censured," Jara said, adding that she has been the victim of a "political trial" on an issue unrelated to her job.
"It is known that there have been ministers with a military background who stood aside in the face of reality, and they are to be believed when they say they knew nothing, but Ana Jara is the one who has to be crucified," Jara said.
Jara's censure has been sharply criticized by most leaders who are not in the opposition parties, including by the private business and industry confederation, Confiep, the National Society of Industries, SNI, and the Lima Chamber of Commerce.
The vote of no confidence is a victory for ex-President Fujimori's spy chief, Vladimiro Montesinos, according to congressman Yehude Simon of the Peruvian Humanist Party.
Simon said the espionage responsibility fell on every government since 2000, when the Fujimori government collapsed.  "The State should have been cleaned up during Toledo's administration as well as by Garcia and Humala.  To punish Ana Jara, who herself has been followed and wire-tapped, seems excessive to me."
The editor of Poder magazine, David Rivera, said that listening to the debate in Congress on Monday was "a tragicomedy" when Apra (memorably Mauricio Mulder) and the Fujimoristas became indignant about surveillance by the DINI. "Hell, that's being really shameless," River said, recalling the importance that espionage, the national intelligence and Montesinos were given during the Fujimori administration.
Investigative journalist Gustavo Gorriti said in an interview on Canal N TV that he considers the DINI issue was "artificially inflated," without any substance serious enough to censure a Cabinet, to force changes in President Humala's government.
Jorge von Wedemeyer, president of the Lima Chamber of Commerce, said valuable time is lost with the cabinet censure, because a new cabinet chief and ministers need time to get up to speed with their new work.   "The country, not the Government, loses with this censure."