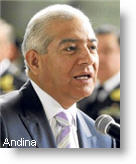 Increased crime in Peru could be a product of the country's red-hot economic growth during the past decade, according to Interior Minister Wilfredo Pedraza.
"The growth of crime is an international phenomenon, mainly in those countries that have had clear economic growth," Pedraza was reported saying by daily El Comercio. The statistics show that cities such as Lima, Ica, Trujillo and Chiclayo have slightly elevated rates in crime."
Pedraza said that Peru's national police are taking measures to improve logistics and human resources in order to combat crime in cities like Lima.
Even though data shows that Lima is relatively safe compared to other Latin American capitals — crimes such as theft are, in general, less violent—  the perception of insecurity is extremely high among the city's nine million residents. Insecurity is regularly ranked as one of the top concerns among Peruvians in public opinion surveys.
The increase in crime has come as Peru's economy has seen a decade of Asian-like growth, one of the fastest rates in the world. Last year, Peru's gross domestic product rose 6.3 percent, in 2011 it gained 6.8 percent and in 2010 it increased 8.8 percent. The higher growth has meant that many Peruvians have more cash, and more purchasing power through savings or loans.   
However, many public sector institutions that deal with issues ranging from security, to education and health, have not kept up with the economy. Peru's public-sector education continues to be weak, while public health care is improving but still limited.
President Ollanta Humala's administration has been criticized by political opponents for not tackling crime, although it is an issue that has been growing over the past two decades, in great part due to corruption and poor follow-up in the police, judicial and penal systems, lenient sentences, greater access to drugs, and more guns in the market.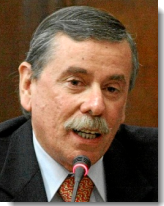 Fernando Rospigliosi, a critic of the administration and former Interior minister, called Pedraza's comments linking economic growth to rising crime as dumb.
"We have to be poor in order to be safe," he said on Twitter. "There's nothing dumber."
Pedraza has defended the government, saying the process of improving security in Peru's biggest city will be progressive. "As all over the world, this is a progressive process but we are seeing the results. We aren't in an emergency," he said.