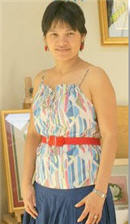 Bella comes from Francisco de Orellana – 80 km from Iquitos, the capital of the department of Loreto, which includes the main part of the Amazon rainforest area that covers eastern Peru. She emigrated to Britain a decade ago and has established a career in the area of textiles (embroidery – see her website for a fuller description). At the same time she is giving Peruvian textile design greater exposure in London. Recently she passed through Lima and the Peruvian Times was able to interview her.
PT – You are something of a first. We first heard of you as the first Peruvian in London to give one of the first courses dedicated entirely to Peruvian Textiles (Embroidery), AND given in a Royal Palace – that of Hampton Court. How did all of this come about?
BL – The people there – the Royal School of Needlework (the RSN) – got to know me because I had previously done a three-year degree Apprentice course with them. And I had originally come across the RSN on a visit to a National Trust property in Guildford.
PT – A prestigious name, the RSN -'royal' and all that – in a prestigious palace ?

BL – There is something of an aristocratic connection with fine needlework, tapestries and so on in Britain, whereas in Peru there is more of an association with peasant handicrafts (artesanía), though things are changing and neither description is entirely true. I was the only foreigner on the course.
PT – Did you find that the lecturers and students were quite well informed about Peru?
BL – They knew something of Peruvian textiles and as I used Peruvian themes in much of the work I was doing there – Marinera dancers, the Lord of Sipan and so on– they came to know more. I took the course, starting in September 2006, with eight other students. It covered more of 64 embroidery techniques going back, for example, to the great age of Jacobean embroidery, and deals with restoration and preservation techniques. 
PT – What topics did your own course on Peruvian embroidery deal with?
BL – It was based on the exploration of ancient embroidery techniques from the Chimu cultures to the present time. Although it was impossible to cover all the skills, we explored and executed a Peruvian Sampler with the application of metal work on textiles, Stem Stitch (Paracas embroidery technique). And we also included Pre–Inca Featherwork and some Network techniques, both of which were very popular.
The Kensington Stitch
 Bella Lane draws attention to the use of the complicated but exquisite "stem stitch."  In the first millennium BC it was employed by early Peruvians to create the now world-renowned Paracas embroideries. The use of the stem stitch has almost died out in Peru and Bella will be working to bring it back into use. It is used –to an extent – in Britain, where it sometimes goes by the name of the "Kensington" stitch. (See the image of the Paracas textile in the main article on textiles). 
PT – You were involved in the British Museum's remarkable outreach to the public during its recent project called "A History of the World in 100 objects."  Could you tell us something about that?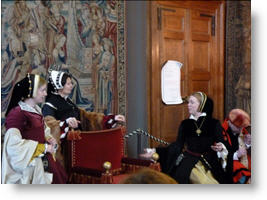 BL – The BM had included several Latin American pieces in the history and had organized a workshop around one of them. The Museum then invited 25 young people (from London and around) with Latin American roots to attend. They had the opportunity to design and craft a textile during the workshop and I was able to advise and tutor them. The BM hopes that the global range of its holdings will be of real specific interest to London's global population.
PT – Could you describe your current work?
 BL –  At this moment, in addition to my tuition groups and shows,  I am developing my class for next August 2011, based on Paracas Embroidery, helped of course by the research that I have just completed in Paracas itself, in Ica and in the museums of Lima. I am very excited and touched by this wonderful opportunity the RSN has giving me to promote Peruvian embroidery in London. Soon all my research will be online at 'Tuitions' at my website – do keep an eye on it!  And one final thing – I am hoping to go to New York soon to visit the Metropolitan and Brooklyn museums to see their relevant collections.