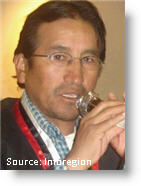 The mayor of Espinar, the Andean province in southern Peru entangled in violent protests, was detained by police Wednesday for his role in the protests against the Tintaya copper mine owned by multinational company Xstrata.
At least a dozen police officers, wearing protective gear and carrying truncheons, rushed the government building in Espinar province where they captured Oscar Mollohuanca, who had gone into hiding after President Ollanta Humala declared a state of emergency to halt the violent protests.
Newspaper El Comercio said that Mollohuanca was transferred by helicopter to the city of Cusco. He was reportedly accompanied by the regional president of Cusco, Jorge Acurio, and Congresswoman Veronika Mendoza, a congresswoman for Humala's Gana Peru party.
Mollohuanca is being questioned about his leadership in the protests and for allegedly instigating the use of molotov cocktails.
Residents in Espinar started protests last week against Xstrata's operations at the Tintaya-Antipaccay mine. Protesters say the mine has polluted the Salado and Cañipía rivers and want the company to increase its contribution to a local development fund to 30 percent of its operating profit from the current contribution of 3 percent.
On Monday, the week-long protests escalated against Tintaya leading to the kidnapping of a prosecutor, and the death of at least two protesters during clashes with police. Protesters released the prosecutor late in the night but had set fire to the state attorney vehicle and forced the prosecutor to walk barefoot. The same night, protesters also set fire to the Xstrata Foundation office in the town. Peru's police also said in a statement that they recovered Molotov cocktails from protesters.
The state of emergency provides the national police a more stringent control over the area and suspends constitutional rights, including the freedom of assembly and the need for warrants for searches and arrests.
Implementing a state of emergency is a tactic the government has used to quell other mining protests, including demonstration's late last year against Newmont Mining's Minas Conga project in Cajamarca, in the north Andean highlands.
In addition to Mollohuanca, police officers also arrested this week a number of other protest leaders. Reports said Wednesday that six of the protest leaders have been released, while Herbert Huaman, the president of the Espinar Defense Front, is still being held.