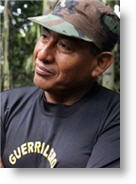 Peruvian prosecutors on Tuesday formally charged Florindo Flores, a leader of the Shining Path splinter group who was captured in February.
Prosecutor Luis Landa said that Flores, known as "Artemio," has been charged with terrorism, drug trafficking and money laundering, state news agency Andina reported.
Prosecutors are asking for Flores to be sentenced to life in prison. Landa said the charges against Flores are easy to prove.   A profile on Flores was published by IDL Reporteros in March this year.
Flores, who headed Shining Path operations in the Upper Huallaga valley, located in the regions of Huanuco and San Martin, was the last remaining member of the Shining Path's central committee to be arrested or killed.  The police capture of Artemio, and their operations over the past several years in the Upper Huallaga, still an important production zone for coca and cocaine, have effectively eliminated and disbanded the Shining Path's hold of the area.
Flores is now being held at the maximum security Callao Naval base prison, along with other high-profile inmates such as Shining Path founder Abimael Guzman and former Peruvian spy chief Vladimiro Montesinos.
The United States government had placed Flores on its narcotics rewards program, offering a $5 million reward for information leading to his capture.
While the Shining Path group in the Upper Huallaga has been effectively disbanded, well-armed rebel remnants still operate further south in the Apurimac, Ene and Mantaro river valleys, an area strategically known as the VRAEM.