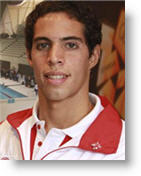 Peruvian Olympic swimmer Mauricio Fiol set a new national record in the 200 meter butterfly on Monday.
Competing in the heats, Fiol swam the 200 meter race, considered by many to be one of the more difficult events in swimming, in 1 minute, 59.02 seconds. The previous Peruvian record for the event was 1 minute, 59.44 seconds, according to Radioprogramas.
Fiol finished second in his heat, but failed to qualify for the semi-finals with his 25th place finish overall. Only the top 16 swimmers advance to the semi-finals.
Twenty-three year old Dinko Jukic of Austria finished first in 1 minute 54.79, followed by Tyler Clary of the United States at 1 minute 54.96. American swimmer Michael Phelps also qualified for the semi-finals, finishing fifth in the heats with a time of 1 minute 55:53 seconds.