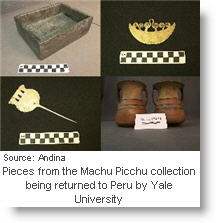 Yale University is planning to send to Peru the last shipment of Machu Picchu artifacts by December 2012, state news agency Andina reported.
The first shipment of the archaeological pieces, which were taken from Peru almost a century ago, arrived on Wednesday to celebrations.
The 46,635 fragments and artifacts will be returned in two stages, the report said. The first stage will be completed in December this year.
The first shipment of wooden crates, containing 366 objects and 1000 fragments, were delivered to Government Palace on Wednesday and will remain at the palace to be opened by archaeology specialists and exhibited for approximately two weeks before being shipped to Cusco.
The artifacts were taken to Yale for research purposes by explorer Hiram Bingham, an American historian sponsored by Yale and the National Geographic Society, during expeditions from 1912-16.
The artifacts are to be housed at the Inca palace of Casa Concha, owned by San Antonio Abad del Cusco National University (UNSAAC), where Yale University will also collaborate to make the International Center for Machu Picchu, which will include a museum and research facilities. However, among the thousands of pieces in the collection, only between 329 and 363 of the ceramic, stone and metal artifacts are considered to be of museum quality, while the remainder is made up to a great extent by bone fragments and potsherds.
Meanwhile, President Alan Garcia, who announced last November a deal with Yale to return the pieces, celebrated their return on Wednesday, saying that they "strengthen [Peru's] national pride and self-esteem."
"They represent the dignity and pride of Peru because they are works done by our ancestors," he said.