In 1940, pioneering newspaperman C.N. Griffis, known as Griff to generations of South American and Amazon travelers and adventurers, was forced to stop publication of one of South America's leading English language newspapers, the West Coast Leader.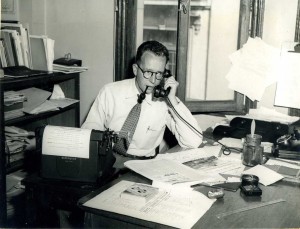 Nazi sympathizers, objecting to his clearly pro-Ally editorial line, maneuvered to cut off his publishing house's financing. So Griffis — a correspondent for The London Times, the New York Times, The Chicago Tribune, UPI, AP and Reuters news services — moved a block away to Lima's Plaza San Martin and opened a new office and a new newspaper, the Andean Air Mail & PERUVIAN TIMES.
Griffis first came to Peru in 1912, contracted by American publisher John V. Noel to be editor of the fledgling West Coast Leader. Noel, who also published a monthly journal called Peru Today between 1908 and 1914, returned to the US in 1914 and Griffis continued as editor, later becoming publisher.
Decades later, in November 1974, the paper was again silenced, this time by the leftist military regime of Gen. Juan Velasco after the new publisher, Griff's son Donald, and his editor, Nick Asheshov, revealed that a British arbitrator was named in the government's oil pipeline contract with Japan to decide possible disputes. It was an embarrassing detail that Peru's opposition press seized upon to attack a staunchly nationalistic military junta that liked to portray itself as immune from outside interference in its sovereign affairs.
Plainclothes police closed the Peruvian Times offices and impounded its newspapers at the printers. Some of the opposition press fared worse, not only being shut down but also having their editors deported to Argentina.
Months later, working from a staff writer's garden and the editor's dining room, the publishers began to produce the weekly Lima Times and the monthly economic newsletter The Andean Report.
The Lima Times was initially intended to stick to non-controversial news, but by the 1980s provided strong coverage on the Shining Path insurgency and human rights abuses, winning Columbia University's Maria Moors Cabot Award in 1988 for distinguished journalism. The Andean Report, meanwhile, was a pioneer in business and economic publications in Peru for many years, in both English and Spanish.
The process of news production has constantly evolved, from glass negative plates and the cacophony of manual typewriters and Linotype machines clacking out words from bars of lead to the digital multimedia world of today's Internet. But the essence and purpose of news gathering remain the same.
For almost a hundred years, Andean Air Mail & Peruvian Times, one of the oldest English-language publishing houses in South America, has reported and made sense of events in Peru.
After a 10-year hiatus, publisher Eleanor Griffis is relaunching the family publication as an Internet news magazine.
Our mission:
To gather news and produce quality investigative journalism about Peru, offering expert commentary and analysis and providing space, sight and sound to alternative points of view overlooked or ignored by mainstream media; To promote civic culture, social justice and democratic values for Peru's progressive development; To promote and sustain Peru's diverse tapestry of culture, history and natural diversity.
The Andean Air Mail & Peruvian Times will strive to abide by the Blogger's Code of Ethics formulated by Jonathan Dube of CyberJournalists.net. This code is a modified version of the Society of Professional Journalists' Ethics Code, which our contributing writers and columnists are expected to follow as guiding principles when preparing and submitting material for publication.
— Eleanor Griffis, Editor / Publisher
We are proud to include among our editorial contributors:

Nick Asheshov: Director of The Machu Picchu Train Co., Urubamba.A veteran journalist, noted explorer and entrepreneur, he was editor of the Peruvian Times from 1969 to 1990.

Paul Goulder: Academic and specialist on Latin America and Peru. Last academic posts: ENSCP-Paris; King's College, University of London; UNSA, Arequipa, Peru.  Also not-for-profit work in ecology, development and education in UK and Peru.

Daniel Buck: Washington-based independent scholar and freelance author who has written extensively about Andean history, as well as being a member of the advisory board of the Wild West History Association.

Rick Vecchio, PT Editor: Veteran journalist and travel consultant. A daily reporter for newspapers in New Jersey, New York and Massachusetts during the late 1980s and 1990s, and a former Peru correspondent for The Associated Press during the presidential administrations of Alberto Fujimori, Valentín Paniagua, Alejandro Toledo and Alan García.
Interested in contributing articles to the Peruvian Times? Send us a message using our Contact Us form