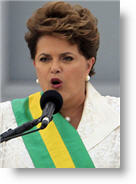 Brazilian President Dilma Rousseff is to visit Peru in 2012 to meet with President Ollanta Humala, according to Brazil's Foreign Affairs minister Antonio de Aguiar Patriota.
Humala and Rousseff met during the recent meeting of the United Nations General Assembly in New York. As well, Humala's first visit following his June 5 election was to Brazil to meet with Rousseff and other government officials.
Brazil, South America's biggest economy, is playing an increasingly larger political role in the region.
During the presidential campaign, Humala, who brought in Brazilian advisors, looked to strengthen ties with Peru's eastern neighbor. He promised to govern Peru by emulating Brazilian ex-President Luis Ignacio Lula da Silva, rather than Venezuelan firebrand Hugo Chavez.
On Monday, Brazil's Patriota met with Peru's Foreign Affairs minister Rafael Roncagliolo and the officials signed agreements aimed at improving security along the border region and intensifying the fight against drug trafficking.
Brazil and Peru also agreed to accelerate talks on energy agreements and to promote sustainable growth.  Both countries currently have an agreement to develop hydroelectric projects in Peru's Amazonia. The major project, however, was cancelled in May this year by the Garcia administration to quell weeks-long, violent protests in Puno — the Inambari hydro project would have required flooding a large swathe of jungle in the Puno-Madre de Dios area, affecting part of the Candamo reserve and displacing indigenous communities, as well as flooding part of the new Interoceanic highway.