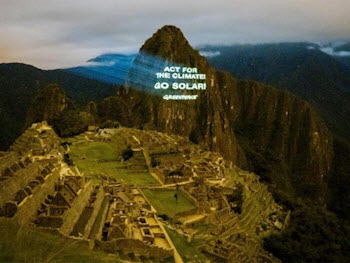 Seven Greenpeace activists sneaked giant banners into  Machu Picchu yesterday on the eve of UN Climate Summit (COP20) and unfurled a message urging world leaders to adopt a new course toward 100% renewable energy by 2050.
"Machu Picchu is a place renowned for the power of the sun, it marked our past and we should depend on it for our future," said Martin Kaiser, Head of Delegation Greenpeace Climate Policy, in a statement.
"The recent agreement between the US and China is a turning point that should stimulate global commitment to the goal of 100% renewable energy for everyone," he said. "At COP20, we call for major emitting countries to set ambitious commitments for 2025. The whole world is watching and now is the time to act."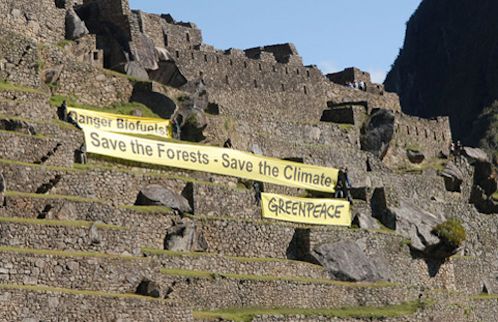 Among the activists involved are people from Argentina, Brazil, Chile, Spain, Austria and Germany.
The banners warning of the dangers of biofuels were followed by a video posted by Mauro Fernandez, Greenpeace's representative for the Andean Region.
The translation of Mauro Fernandez'  statement follows below the video.
"To the heads of state who are present at this Summit in Lima, Greenpeace demands that, in the case of biofuels, strict environmental standards be established to guarantee that the cost of producing these biofuels is not the mass destruction of our forests, displacement of native communities, serious environmental degradation, a negative carbon balance on the climate, and that food security especially not be threatened in our countries.
"Greenpeace was present at the European Union Summit with Latin American and Caribbean countries [EU-CELAC] because the use of biofuels by the European Union is an increasingly dramatic situation. This summit brought together suppliers and clients of a product that is presented as a solution to mitigate climate change when the reality is that the impact it can cause on the environment in the region, on the communities and on food prices can be much more negative than what they are trying to solve.
"This is why Greenpeace has staged a demonstration at the Machu Picchu ruins, which are the symbol, the logo itself of this European and Latin American summit, to call attention to the vital need that exists to establish strict environmental controls on the production of biofuels."