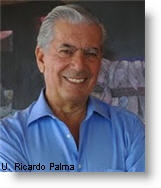 Novelist and Nobel 2010 winner Mario Vargas Llosa wrote a harsh letter to the publisher of El Comercio daily on Monday, explaining his reasons for rescinding any right to the newspaper to republish his syndicated column from Madrid's newspaper El País:
Dear Publisher,
I have asked the daily El País to, as of today, cease sending my contributions to El Comercio. Ever since a fistful of shareholders led by Mrs. Martha Meier Miró Quesada took control of this daily and of the group of television channels and newspapers that it owns, the newspaper has become a propaganda machine for the candidacy of Keiko Fujimori that, in its eagerness to impede a victory by Ollanta Humala by any means necessary, violates every day the most elementary notions of journalistic objectivity and ethics: it silences and manipulates information, misconstrues facts, opens its pages to lies and slander that can harm the adversary, while at the same time firing or intimidating the independent journalists in the whole media group, resorting to the deceit and low blows of the worst of yellow journalism and scandal rags. I cannot permit that my column "Piedra de Toque" [Touchstone] continue to appear in that caricature of what should be a genuinely free, pluralist and democratic publication.
As I leave El Comercio for the second time, now definitely, I cannot help but remember that fine democrat, upstanding man and dearest friend, Luis Miró Quesada Garland, and the stupor and sadness with which he would have looked on the abject levels to which Mrs. Meier Miró Quesada and her accomplices have taken the newspaper that was once his and which he honored with his decency and his articles.
Yours sincerely
(signed) Mario Vargas Llosa