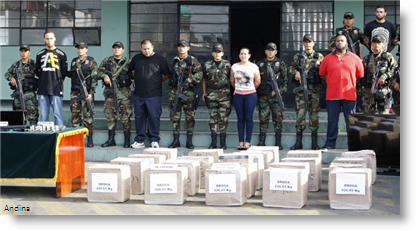 Peruvian police on Friday arrested nine people in a series of anti-drug operations, which included the seizure of more than half a ton of cocaine at a home on the edge of Lima's upper-class La Molina district.
Anti-drug police raided the home in La Molina, where they found 600 kilograms of cocaine, according to daily El Comercio. They later raided homes in the industrial trade district of La Victoria and in an overcrowded area at the seaside neighborhood of Chorrillos.
"At this first point in La Molina, we arrested five people  and impounded weapons, drugs and money," said Vicente Romero, the head of Peru's anti-drug office, Dirandro.
In total, nine people were arrested, including five members of a family drug clan that had been living in the La Molina home for a year and a half.
"It is a large organization that was dedicated to exporting high-purity cocaine to the United States," said Romero.
Peru is the world's top producer of cocaine, which is smuggled to markets in the United States, Europe and neighboring countries such as Brazil and Argentina. The drug is produced from coca leaves, grown on the eastern slopes of the Andes where the mountains meet the Amazon rainforest.