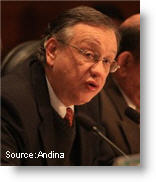 Peru is seeking to organize a hemispheric summit next year aimed at combating illicit arms trafficking, according to Deputy Foreign Affairs minister Jose Antonio Meier. The illegal arms trade is considered one of the main drivers of higher criminal violence in Latin America, according to state news agency Andina.
Meier said the government is currently preparing its proposal for the event.
Meier said that during the meeting, member states of the International Convention against the Manufacturing and Illicit Trafficking of Fire Arms plan to set up a system for identifying and pursuing arms trading.
He said the region could look to the United States, which currently collaborates with the Organization of American States to implement mechanisms to track arms in some Caribbean islands.
During a trip last week to New York for the 66th UN General Assembly, President Ollanta Humala called for greater control over the supply of arms that are used in crimes.
According to the UN, there are between 45 million to 80 million guns in Latin America and the Caribbean. The UN says that in Peru there are 2.7 guns for every 100 people, while in Colombia it is approximately 6 guns for every 100 and in El Salvador it is 5.8 per 100 residents.
In Venezuela, a country that has seen a surge in murder and other violent crimes in recent years, there are 10 guns for every 100 people, according to the UN.