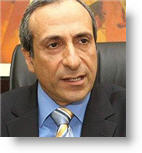 Peru's Comptroller General, Fuad Khoury, said Wednesday there were 10,659 cases of government irregularities during the final years of former President Alan Garcia's administration, daily La Republica reported.
Khoury said during a presentation to the Congressional committee that his office had opened 29,405 reports for 2,369 government agencies between January 2009 and July 2011, when Garcia stepped down and was succeeded by current President Ollanta Humala.
Khoury said that in mid-September his office will start to look into the works to build Lima's electric train to verify the use of funds, which increased to $108 million over the original budget.
The official said that during his administration his office has held three reviews of the electric train project and found 32 deficiencies.
In addition, Khoury said that his office is looking into the government's Banco de Materiales to investigate the disappearance of credit files and an alleged charging by government officials for awarding credit.
The comptroller general's office is also auditing works at Lima's National Stadium as well as the Mines and Energy Minsitry, state agency Perupetro, the Air Force and the Interior Ministry, among others.