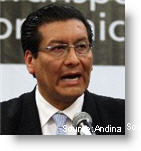 Peru and South Korea are planning to sign an agreement before the end of this year that will allow a South Korean airline to fly to Lima and provide services within Peru.
"The signing of an aerial agreement from government-to-government is something that has been agreed on, we have the commitment from [South Korea] to sign it before the end of the year," state news agency Andina reported Transport Minister Carlos Paredes said.
Paredes said that Korean Air is interested in operating in Peru soon. The government has been interested in attracting a new airline, particularly from Asia because of the Pacific Rim, in order to increase tourism and business.
The airline would use Lima as its international and regional hub, and look to improve competition in the domestic flight market.  The government seeks to upgrade a number of domestic airports to broaden the air transport connections in the country. It is starting with the Pisco airport on the south coast, which is operated by the Air Force and is also used for cargo flights and as an emergency destination when the winter fog over Lima limits visibility for landing.   
"The president of Korean Air, with whom I met, has confirmed his interest in starting operations in Peru. He promised to send a mission of his people and they did so quickly. They were in Lima and it seems like it's on the right path," Paredes said.
The Korean Air route would be from points in Asia to Los Angeles, Mexico and Lima, with the additional domestic services within Peru.
The major operator in domestic flights is currently Chilean-owned LAN.  The second international airline is the Central American-based Taca.  The domestic companies include Star Peru, LC Busre and Peruvian Airlines.