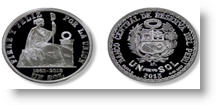 Peru's Central Bank has minted a sterling silver sol coin to commemorate 150 years since the currency was created. The design is based on an 1863 coin —the reverse depicts Liberty seated, with the motto "Firme y Feliz por la Unión" (firm and happy for the union), while the obverse carries the country's coat of arms. 
Since its creation during President Juan Antonio Pezet's administration in the 19th century, the sol has had its ups and downs, and was replaced in 1985 by the Inti (the name for sun in Quechua), due to rampant inflation. The Inti's lifespan was short, however, and in 1991 was converted into the Inti Millón (runaway inflation meant that a minimum wage was 200 million intis).   That same year, the currency was named the Nuevo Sol, which had a par value of one million intis.   The name has popularly reverted to the sol, without the "nuevo", although the formal name is required in all legal documents, accounting and writing of checks.        
The commemorative coin is legal tender, and can be purchased at the Central Bank and at all major banking branches. The price is S/. 110.