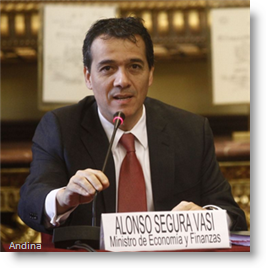 Finance Minister Alonso Segura expects Peru's economic growth this year to be "mediocre," daily Peru.21 reported.
In a presentation to the Congressional committee on Economy and Finance, Segura said that Peru's gross domestic product will likely grow "3.5% or a little less."
The ministry has been slashing its growth forecast this year as economy disappoints. The ministry's most recent forecast was for growth of 4.2%.
The Central Bank had announced recently that it saw economic growth of about 3.5% for 2014.
"The Central Bank has announced its latest projection. We believe that the growth rate is going to be around that, around 3 and higher, perhaps 3.5% or a little less," Segura said.
Segura said that the "mediocre" growth will propel the government to deepen its plan for stimulating the economy.
"What is important beyond the numbers for this year is how fast we return to the route of reacceleration," Segura said.
Segura recently took over as Finance minister, succeeding Luis Miguel Castilla, who had held the post since President Ollanta Humala took office in July 2011.