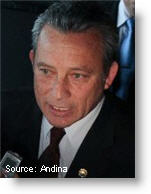 An international conference on the drug trade, to be held in Peru in mid-2012, is to focus on rural alternative development and exchanging information, according to Ricardo Soberon, the head of Peru's anti-drug agency Devida.
The conference is planned for June 26 – 27, state news agency Andina reported.
Soberon said the conference is to allow governments to re-evaluate their anti-drug policies and put into practice a principal of shared responsibility for the multi-billion dollar illicit drug trade.
"The idea is to see ourselves as country partners in a situation where we haven't achieved in 20 years the results we wanted," Soberon said.
Soberon said that Peru is looking to take a lead by promoting alternative development and sharing of intelligence.
"In the field of intelligence, the idea is for Peru to present a platform to supply and exchange information in the fight against drugs that is based on reciprocity, transparency, opportunity and immediacy," Soberon said. "We have to give up the logical and traditional jealousies of international law and exchange information at the civil, judicial, military and police levels."
Peru is the world's top cocaine producer, according to the U.S. Drug Enforcement Administration.