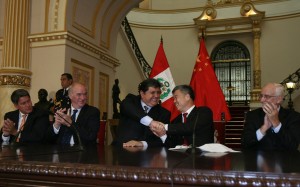 A free trade agreement between Peru and China came into force on Monday, 15 months after President Alan García and his Chinese counterpart, Hu Jintao, wrapped up talks to seal the trade deal.
The official opening of the trade pact with China comes a day after Peru finalized negotiations for a free trade agreement with the European Union.
"This is a historic morning because besides entering into force the FTA with China, we have confirmed that the free trade agreement with Europe has been finalized," the Office of the President quoted García as saying.
The trade pact with China will immediately eliminate duties on 61.2 percent of Peruvian exports to the Asian country, state news agency Andina reported. More than 94 percent of Peruvian exports will immediately receive some type of trade benefit.
The trade agreement is expected to benefit Peruvian mineral, fishmeal, and agricultural exports to China.
"We are anticipating important increases in exports of fresh fruit like grapes, mangoes, citrus fruits and avocados," Foreign Trade and Tourism Minister Martín Pérez told Andina. Other Peruvian agricultural exports, including corn and quinoa – a grain-like seed crop native to the Andean region – are also expected to grow.
Chinese exports that are expected to increase to Peru include light manufacturing, electronics, and automotive goods as well as fruits and vegetables.
China is one of Peru's largest trading partners. In 2009, bilateral trade totaled $7 billion, with Peruvian exports accounting for $4 billion. The state export and tourism promotion council, PromPeru, said last week Peruvian exports to China could increase by 17 percent in 2010 totaling $4.7 billion.
However, the Chinese ambassador to Peru, Zhao Wuyi, said the agreement could double trade between the two countries over the next few years.
"With the FTA coming into force, we expect the volume of bilateral trade will double to $15 billion," Wuyi was quoted as saying. "The FTA has taken into account the worries and demands of both parties, protecting sensitive products and industries in both countries, which has demonstrated a spirit of mutual benefit between China and Peru."
China's accord with Peru is its second free trade agreement in Latin America. China signed a trade deal with Chile in 2005.
Meanwhile, Peru's government announced their trade accord with the European Union is expected to come into force in 2012.
"This is a complex FTA, we must remember there are 27 countries that make up the European Union," said Minister Perérez. "It has to pass through the congresses of those 27 countries and, as it is established in the regulations of the European Union, it must be translated into 23 languages… The implementation is going to take numerous years and we are calculating that, in the best case scenario, it will come into effect in the beginning of 2012."
President Alan García's administration is an ardent supporter of free trade. Peru already has an trade agreement with its largest commercial partner, the United States.
The free trade agreements with the United States, China, and the European Union will provide Peruvian exporters access to markets with 2.1 billion people. The Inter-American Development Bank said last week the three free trade agreements will create at least 40,000 jobs in Peru over the next 10 years.
Peru has also signed trade pacts with Canada, Chile, Singapore and Thailand, and is hoping to close trade discussions with Japan and South Korea before the end of June this year.