President Alan Garcia returned to Lima Wednesday from Madrid, following his visit to the Vatican on Monday and his attendance at the 19th Ibero-American Summit in Estoril and Lisbon on Tuesday.
At the 22-country summit, Garcia was the first speaker in the heads of state plenary session, taking his message on the need for Latin America to make a commitment to reducing arms purchases if it wants to find a way out of the economic crisis.
If the world reduced by a third its $400 billion arms budget, Garcia said, "We would have more than $130 billion to reforest the world, defend Amazonia, and fight poverty."
The summit's theme this year was on Innovation and Knowledge, but much of the talk was overshadowed by the presidential elections in Honduras to replace the ousted government of Manuel Zelaya.  Peru, Colombia and Costa Rica are among the countries that recognize the newly elected President, Porfirio Lobo, but Venezuela and Ecuador continue to demand that Zelaya be reinstated.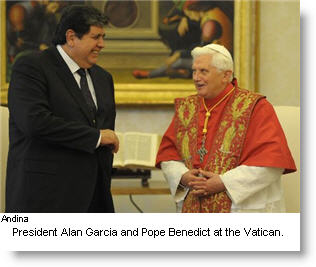 Prior to the summit in Portugal, Garcia was in Rome for a private audience with Pope Benedict XVI at the Vatican.  According to Garcia, the topics of conversation included his proposal for arms reduction to fight poverty, and environmental protection, "without falling into a new form of paganism that thwarts society from obtaining its resources."
García said he mentioned to the Pope that some members of the Roman Catholic Church "encourage ancient practices, such as payment to the earth, to encourage an ideology that prevents the development and progress."
Pope Benedict was in Lima 23 years ago, then as a cardinal, when Pope John Paul II visited Peru during President Garcia's first administration.