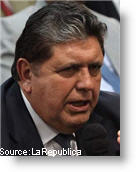 The Attorney General's office has ordered the lifting of banking secrecy rules in the case of ex-President Alan Garcia's accounts, as part of an investigation into Garcia's purchase of a house worth $830,000, daily El Comercio reported.
Garcia has denied any wrongdoing in the purchase of the house, saying that he bought it with funds from speaking engagements. Garcia sent the attorney general's office his bank records a few weeks ago, but prosecutors said the information "was insufficient."
"We've asked for access to all the information that there is in the Superintendent of Banking and Insurance about the former head of state," a source from the attorney general's office told El Comercio.
The investigation by the attorney general's office is occurring at the same time as another investigation, by a Congressional committee into corruption allegations during Garcia's second administration from 2006 to 2011.
Among the issues that the committee has uncovered so far is that Garcia gave thousands of presidential pardons during his administration, including several hundred to inmates convicted of drug trafficking. Allegations have also emerged that inmates could buy their way out of prison by making payments to members of the pardons commission in order to reduce their sentences.
Top officials in President Ollanta Humala's administration have called the pardons a national scandal and said they have contributed to the increased insecurity in the Andean nation.
Garcia has denied any wrongdoing in that case and other cases of alleged corruption during Peru's previous administration. He said the pardons were given to low-ranking drug traffickers, and not capos.