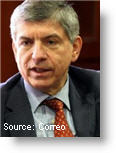 The former Secretary General of the Organization of American States, Cesar Gaviria, believes that revised policies and fundamental changes are required to tackle drug trafficking, according to government news agency Andina.
Gaviria, who was President of Colombia 1990-1994, was in Lima this week with other  political and social leaders from the Andean region and the U.S. for the Andean-US Dialogue forum, organized by IDEA International and the Carter Center. 
"After 100 years of international conventions or 40 years since U.S. President [Richard] Nixon declared the war against drugs, the advances have been minimal, if not to say that there have been retreats," he said.
The Andean region is the world's source of coca leaves, the raw material used to make cocaine. Peru has overtaken Colombia as the world's top producer of coca.
In Peru, the leaf is grown in two regions: the Apurimac and Ene river valleys, or VRAE, and the Upper Huallaga Valley in Huanuco department. In both regions, remnant groups of the Shining Path insurgency work as hired guns for drug traffickers.
Analysts in Peru have said the drug trade could be Peruvian President Ollanta Humala's main challenge during his administration.
Gaviria said that policies of "prohibition" have failed and are leading to calls for legalization, which he considers extreme.
"The consumption of drugs is more a health problem than a criminal one," he said. "The day we accept this definition, that drugs do harm, that the consumption of drugs is a health system problem, we open immense possibilities to create better policies. This has been lacking a little in the United States."
In countries that have addressed the drug problem as a health issue, rather than a criminal one, Gaviria says there is less violence and addiction. "It is not a perfect solution, but it is much better than what is going on today and that is not producing results," he said.