Plummeting temperatures in southern Peru, particularly in the high Andes and altiplano above 4000 masl (13,000 ft), have caused the death of at least 48 children from pneumonia and related diseases since April this year. Most of the children were already weakened by malnutrition.
Daily El Comercio reported that some 257,000 people in southern Peru have been affected with health problems or damage to their homes as a result of the heavy snowfalls and below-freezing temperatures.
As every year, campaigns are underway through churches and charity organizations in Lima and other major cities to donate blankets and warm clothing for the 'friaje', the cold, that will continue until at least the end of August.
In May, the government started actions in Puno on a multi-sector plan for the winter in the southern Andes, with veterinary kits, blankets, educational packages, and stacks of hay for forage, that are supplied through the government system of tambos, or community centers.
This week, schools in Moquegua and Tacna are closed for at least first three days, and some are bringing the two-week Independence Day vacation break forward, following weather report warnings of strong winds across southern Peru.  In Arequipa region, winds are expected to reach 60 km/hr (37 mph), according to Guillermo Gutierrez, head of the weather bureau, Senamhi, in Arequipa.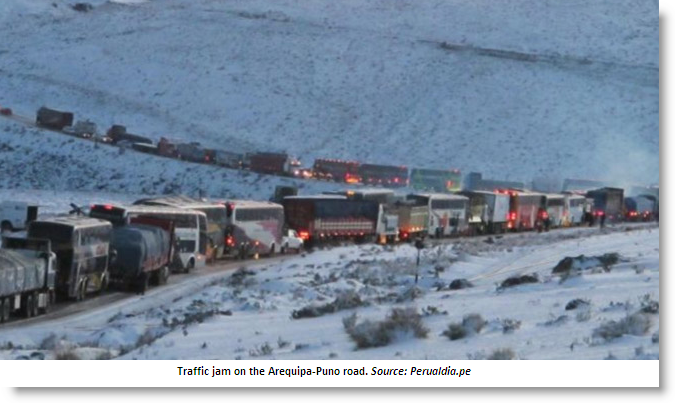 Late last week, strong winds along the coast in Tacna caused damage to homes and to 80 schools, many of them in rural areas with corrugated tin roofs.  Winds also toppled several billboards in the city, whileseveral trees fell in the port city of Ilo.
Heavy snowfalls have blocked highway traffic across the south, while in the high alpaca breeding areas of Huancavelica, one of Peru's poorest regions, temperatures have been dropping to -16º Celsius in the past several weeks, and Alpacas Norte breeders in Puno have declared their herds in emergency for lack of forage because of the snow.
In Apurimac,  however, the Environment and Water Management Institute, IMA, is providing 35 communities in the Upper Apurimac with 12,000 tons of forage that has been stored since the summer for this time of year.
In Lima, temperatures are not expected to drop below 15º C in July and August this year, according to Senamhi, but humidity will be in the high 90s.