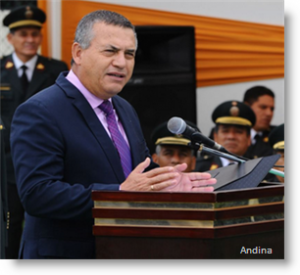 President Ollanta Humala is publicly backing his embattled Interior minister, who is facing calls to resign after reports emerged that he is under investigation in the killing of a journalist almost 30 years ago.
Humala, who returned from OECD meetings in Paris on July 2,  confirmed that he was made aware of the case after he asked Daniel Urresti to take on the post of Interior minister, daily Peru.21 reported.
The President said that government lawyers looked over the allegations against Urresti and determined that they didn't see any sign that he was guilty and "presumed his innocence."
"What is important is that the minister is publicing facing this," Humala said.
On Thursday, Urresti told RPP Noticias that he was innocent and that he was not planning to resign. He took office on June 24, becoming the seventh Interior minister during Humala's three-year-old administration.
Since he was sworn in, Urresti has made a show of hands-on action against delinquency and criminal gangs both in Lima and key cities around the country, with daily press conferences showing impounded stolen goods and arrested alleged criminals. Although his actions have been criticized by the opposition as being more form than substance, they have gone down well with some of the media and the public who rank citizen safety and general security as top concerns.
Prior to his cabinet post, Urresti headed the recent military/police action in Madre de Dios against illegal gold miners, earning criticism from human rights groups for alleged abusive tactics.
The investigation that Urresti now faces is to do with the late 1980s, during the internal conflict, when he was an army intelligence officer in Ayacucho, and was allegedly the leader of a military patrol that ambushed two journalists.   The area was under a state of emergency and full military control, and journalists in particular were not allowed to venture out of city centers.
Bustios, a journalist for Caretas magazine, and colleague Eduardo Rojas, a correspondent with Revista Actualidad, were attacked by a group of soldiers dressed as civilians when they were investigating the extrajudicial killings by Shining Path rebels in Quinrapa, a small town in the district of Huanta. Rojas survived the attack, while Bustios was shot and later killed with explosives.
In October 2007, a criminal court found two officers guilty of murdering Bustios, possibly in retribution for a photo that was taken of one of the officers. At the time, it was virtually impossible to take photos of military officers  in Ayacucho.   Four witnesses at the trial said that Urresti was one of the officers who shot at the journalists, but despite several investigations, there was never sufficient evidence to charge Urresti.
But in 2013, an investigation was opened by an Ayacucho court into Urresti's alleged role in the killing of Bustios. This document was made public last week by IDL, the Legal Defense Institute, through Ideeleradio.
Peru's military battled the Shining Path during the 1980s in Ayacucho, the stronghold of the rebels, and across most of the Andean highlands. Some 70,000 people were killed during the conflict, a Truth and Reconciliation Report found.
A Strange Twist
While all eyes remain on Urresti, IDL revealed yesterday that Victor La Vera, retired army officer and head of the Castropampa barracks in the 1980s, one of the two officers found guilty and sentenced in 2007 for the killing of Bustios, appears to have served his prison term and is now an applicant for a job at the National Defense and Security Secretariat, Sedena, an executive institution attached to the Cabinet.
La Vera has applied for a job as a specialist in security and defense doctrine, according to the evaluation report published on the Sedena website.  La Vera and other applicants are scheduled to take exams this coming Monday, July 7.