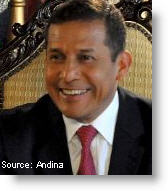 President Ollanta Humala plans to travel to Venezuela on the weekend,  where he will meet with that country's president, Hugo Chavez, state news agency Andina reported.
The trip is intended to deepen bilateral ties between Lima and Caracas with a focus on trade, social issues and diplomacy, Andina said.
The government has requested that Congress provide Humala with authorization for the trip.
Humala had planned to travel to Venezuela in December for the first conference of the Community of Latin American and Caribbean States, Celac, an organization established by Venezuela aimed at countering the Washington D.C.-based Organization of American States.
However, Humala cancelled his travel plans because of social conflicts related to the mining sector that led to a sudden and deep cabinet shuffle.
Humala, a 49-year-old former army officer, has had close ties with Chavez since at least his first presidential campaign in 2006. However, Humala distanced himself from the Venezuelan ruler and his firebrand rhetoric last year as he sought to attract broader support in Peru.
During the presidential campaign earlier this year he attracted moderate voters by pledging to promote private investment and swearing on a bible that he would not seek to rewrite Peru's Constitution.
Meanwhile, the head of Petroperu, Humberto Campodonico, said Tuesday that he was traveling to Caracas Wednesday to discuss an energy accord with Venezuela, Andina said.
"I'll have a number of conversations to see the specific points where we can reach an agreement," he said.
Chavez has been governing Venezuela since 1999, centralizing government power and attempting to lead South America politically.  His allies include Presidents Cristina Fernandez of Argentina, Rafael Correa of Ecuador and Daniel Ortega of Nicaragua.   His Alba network of medical treatment campaigns, which included free ophthalmic treatments for the poor in Puno, was asked to leave Peru when the network was linked to political indoctrination.