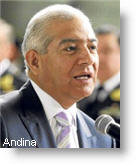 Police will continue to be stationed around the La Parada wholesale market in downtown Lima, contrary to an order by a local judge, Interior Minister Wilfredo Pedraza said Wednesday.
On Tuesday, Malzon Urbina, a judge in the superior court of Lima, issued a ruling in favor of a group of produce vendors at La Parada, ordering police to be removed from the market and concrete barricades removed from the entrance to the market area.
The court order has come under heavy criticism, and concerns by national and municipal authorities that it could lead to more confrontations.  The president of the Lima Bar Assocation, Raul Chanamé, said that the ruling "damages the credibility of the Judiciary," adding that Judge Urbina's 61-page opinion —which mentions Macchiavello, Don Quixote's companion Sancho Panza, and the work of well-known magistrates and jurists— goes against "the rule of law, reason and common sense." 
Premier Juan Jimenez said in a press conference that the ruling was "questionable", and that a writ of habeus corpus cannot destabilize government decisions "that seek to put order in the country."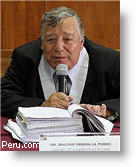 The petition was presented to the court by an association of former shopkeepers at La Parada. The market, located in what has built up over 60 years into a grimy neighborhood in downtown Lima, was shut down in October and wholesalers were relocated to a new facility in the district of Santa Anita in the eastern outskirts of the city off the Carretera Central. Some 2,000 retail vendors also signed a contract with the municipal government to transfer to an adjacent area.
Efforts to relocate the market resulted in riots, allegedly instigated by at least 200 hired gang members. Police officers were pelted with stones by protesters, while four people were killed and many others injured.
 However, Pedraza said Wednesday that authorities will appeal the order to higher courts and will not immediately remove police from the area.
"Of course we are going to appeal [this ruling]," Pedraza said, according to Ideeleradio. "We aren't going to remove [police] from the zone. On the contrary, we are going to reinforce the police presence for a fundamental reason, not to disobey a sentence, but because there are people around the area with a high propensity for crime."
Pedraza said, "We are responsible for preserving public order and due to this constitutional obligation we will maintain the police there until a final decision is made."