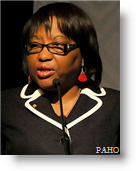 The Pan American Health Organization is sponsoring the fifth International Cancer Control Congress, being held in Lima this week, organized by the National Cancer Institute with specialists attending from throughout the hemisphere.
The congress also marks the first anniversary of Plan Hope (Plan Esperanza), a government initiative to improve comprehensive cancer care and access to oncology services.
President Ollanta Humala spoke at the opening session on Monday, together with PAHO's director general, Dr. Carissa Etienne, and the Minister of Health, Midori de Habich.
"I think we would all agree that the best stage in which to battle cancer is the preventive stage," President Humala said, mentioning that according to statistics given by the state health system, close to 4.5 million people have been attended to in cancer prevention campaigns, that 650,000 have had early detection treatment, and that 24 of the country's regions are now equipped with digital mammogram and other equipment required for detection and treatment.  The state health system includes 6,500 health specialists trained  in cancer management, while S/.65 million has been assigned to the Integrated Health Insurance system to cover treatment for more than 18,000 cancer patients throughout the country.
The first day's speakers were from Peru, Brazil and the United States, with a video conference from Jordan with HRH Dina Mired of the King Hussein Cancer Foundation.  The closing address on Nov. 6 will be by Dr. Simon Sutcliffe of Canada, who will also be moderator for several papers prior to the closing.